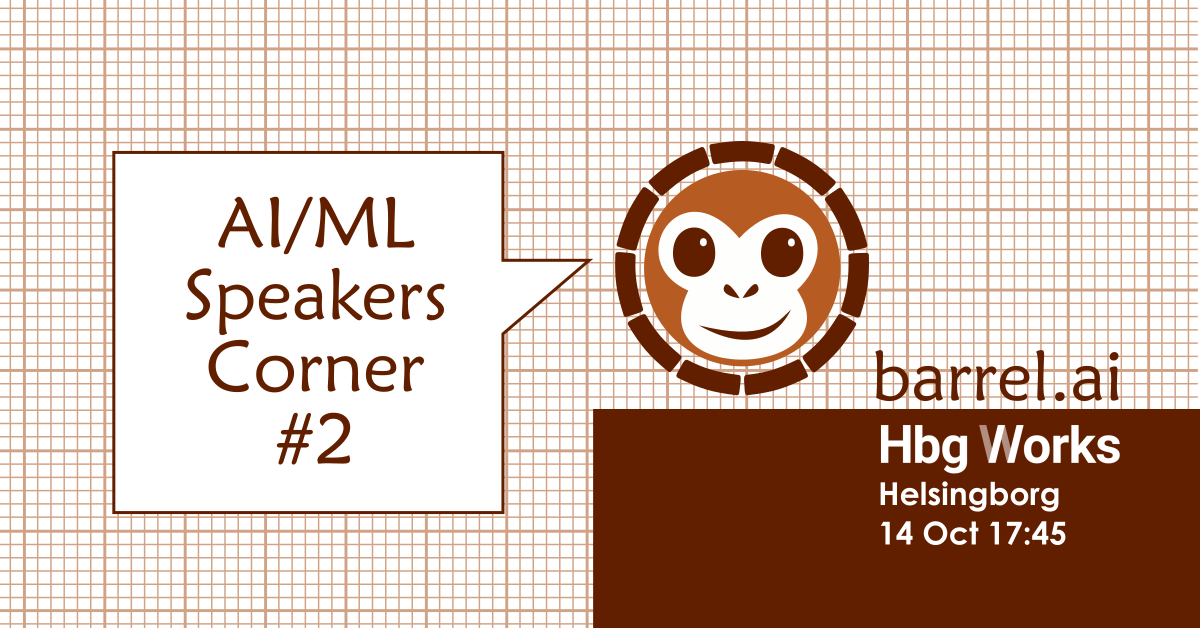 Speakers Corner 2
14-Oct 2020 - 17:45
BarrelAI monkeys
are back :-)
Our AI/ML Speakers Corner in July was very much appreciated so we are happy to welcome you to the 2nd session! This time we are hosted by funky Hbg Works, and we will be live streamed by Get AI, regional AI Center of Excellence, that also supports our community.
Attending event members will have an opportunity to go on the stage and during 10-15min and in a free format present their latest AI/ML project. It can be a ML project you just finished at work or have in progress, a model you are building in your spare time, a Kaggle competition you attended/attending, or why not a vision about an AI/ML project you would like to start with? No great preparations are needed but the passion you have for the AI/ML and some story telling about it! Can you demo your model? Even better!
We have some regular Barrel AI members who already signed-up to demo their very existing projects and during this 2 hour gathering we should be able to cover 5-6 demos. Projectors and other demo equipment will be available.
There will be some snacks and drinks, and maybe even some lighter food, pizza most likely.
Agenda:
17.45-18.00 Welcoming by Works and Barrel AI
18.00 - 19.00 Speakers Corner preachings part 1
19.00 - 19.15 Networking break & Food
19.15 - 20.00 Speakers Cornes preachings part 2
20.00 - 20:30+ A chance to mingle with the attendees
Please try to be responsible with your signing up since we plan to buy some snacks and drinks. We start with the AI/ML Speaker Corner #2 at 17.45 sharp, so be in time.
Welcome!
// Barrel AI coordinators
In collaboration with GetAI and Hbg Works.
Sign up at:
or by writing to johan@barrel.ai or melina@barrel.ai